The Holy Trinity (Old Swedes) Church Foundation was established in 1947 to care for the church and grounds. In 1988 at the 350th anniversary of the New Sweden colony, a new ceiling, central air conditioning and a new roof were installed; King Carl XVI Gustaf and Queen Silvia visited.
The stone Hendrickson House, was re-erected in 1959 on the grounds of Holy Trinity. It was originally built in 1690 on Crum Creek in Ridley Township, PA.
At the head of the center aisle in the church is the grave of Pastor Peter Tranberg and the grave of the infant son of Pastor Lars Girelius is located in the north lateral aisle. It is presumed that Pastor Anders Borell (1760-1768) is also buried within the church. At the south portico is the grave of Charles C. Springer (1658-1738), famed head warden, lay reader and composer of the famous "1693 Census of the Swedes on the Delaware" that led to the renewal of the mission of the Church of Sweden on the Delaware.
In the church yard are the graves of Maj. Peter Jacquette, a Revolutioary War hero; the first bishop of the Episcopal Diacese of Delaware, the Rt. Rev. Alfred Lee; Major General James A. Wilson; Mary Vining; Elizabeth Montgomery; and famed Delaware members of the Vandever, Bayard, Price, Elliot, Foreman, Justis, and Stidham families.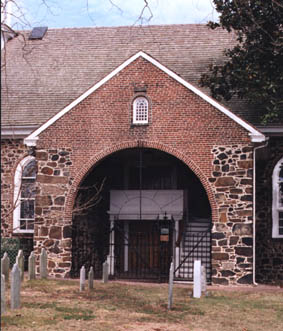 South Portico, Holy Trinity (Old Swedes') Church
(photo: Ronald A. Hendrickson)