Johannes Lindberg was born 1 April, 1818 in Gersholm, Varmland, Sweden. This is about 150 miles west of Stockholm. His father, Abraham Jansson Lindberg was born 25 June, 1774. Abraham was married 3 times and the 2nd wife, Christina Olsdotter Nystrom, was his mother. She was born 12 April, 1784. Johannes had 4 step brothers, 3 step sisters, 4 brothers, and 1 sister.
On 24 November, 1839 Johannes married Johanna Louisa Gadde. She was born 9 November, 1820. Johanna's parents were Johan Erik Gadde (b. 19 May, 1793) and Johanna Jonsdotter (b. 16 June, 1792). Johan Gadde was a black smith at Munkfors Bruk in Ransaters parish. He and his family came from the parish of Vintrosa, County of Narke, in the year 1836.
Johannes Lindberg was a master coachman at various iron works in the county of Varmland (i.e. He was the boss of all the coachmen at a ironworks). As such he employed 5 maids and 4 farmhands at his home. Among the ironworks he worked at were: Vastana in Ransaters, Munkfors Bruk in Munkfors, and Alvsbacka in Alvsbacka.
Johannes and Johanna had 8 daughters and 4 sons. On 30 April, 1869 the family left the parish of Ransatter and the iron works of Vastana and they emigrated to America. The children were Christina Lovisa, Maria Charlotta, Johanna Sophia, Johan Abraham, Emma Charlotta, Johan August, Karl Fredrik, Erik Gustaf (died in Sweden), Anna Kajsa, Thida Augusta, Emma Karolina, and Hedda Gustafva.
Johannes and Johanna lived at Bucklin, Missouri about 1/2 mile north of the Swedish Mission Covenant Church in a log cabin. Johanna died 20 April, 1890 and Johannes died 2 August, 1900.
Charles Fredric Lindberg (Karl Fredrik)
Charles was 16 years old when he arrived in America in 1869. On 13 October, 1878 he married Anna Christina Bjustrom at Bucklin, Missouri. They had 8 children:
Hulda Theodora, died in infancy in 1880
Harry Theodor - lived in Kansas City and had 3 children, Marie, Dorothy, Buddy
Marie - married Robert Holmlund and had 4 children, Arthur, Irene, Viola, Robert
Hilma - married Verner Holstrom and had one daughter Dorothy
Albert - married and lived in Minneapolis, no children
Alma - married Fred Olson, one son Milford
Alice - married Leslie Baugher, two children, Geraldine and Charles
Roland - married , no children
Charles and Anna were members of the Swedish Mission Covenant Church and are buried there.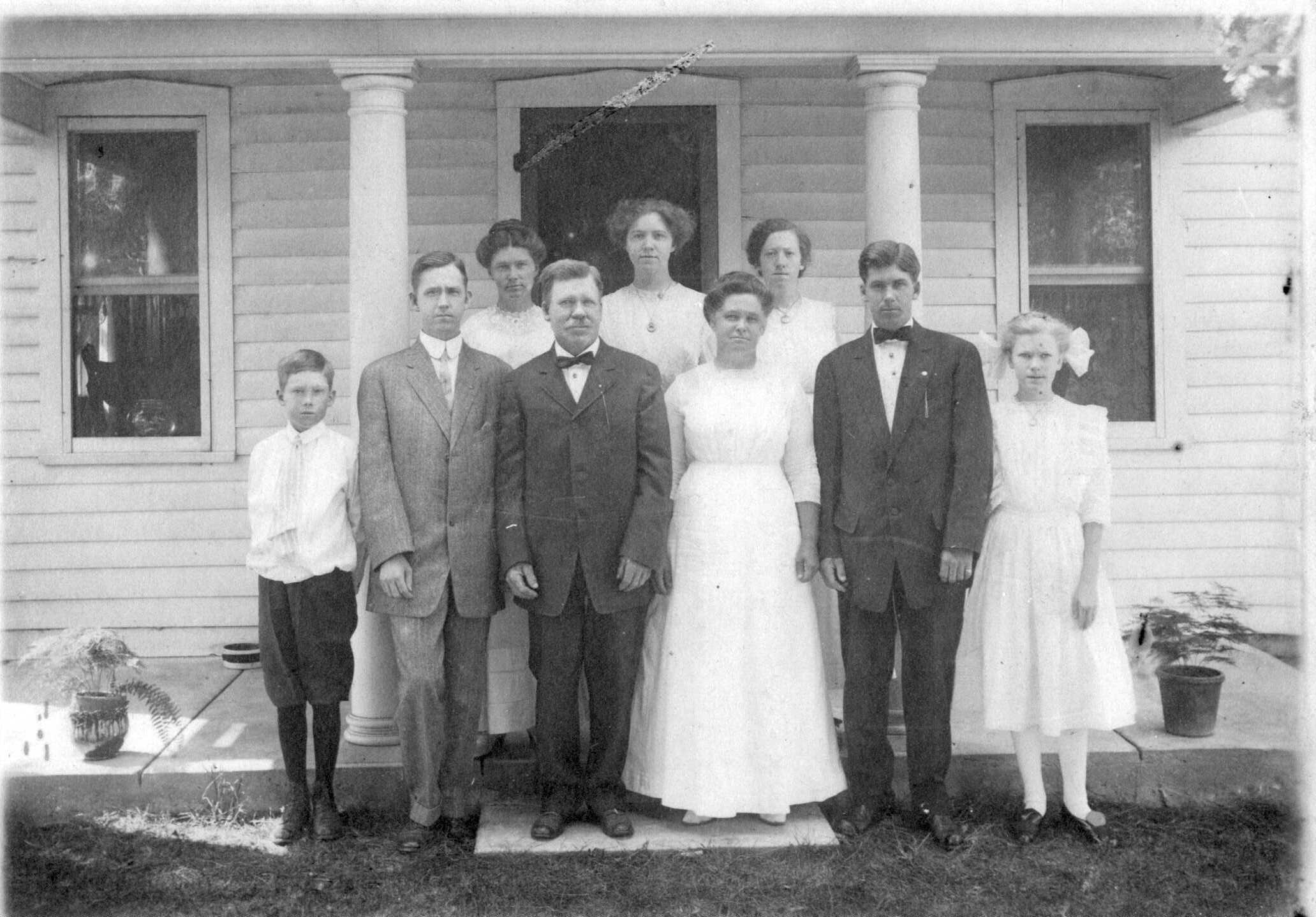 Charles and Anna Lindberg with their children
Front: Roland, Harry, Charles, Anna, Albert, Alice
Back: Marie Charlotte (Lillie), Hilma, Alma
Obituary of Charles Fredric Lindberg
- The Bucklin Herald, Feb. 24,1933 Chas. Fredric Lindberg was born in Sweden on April 7th, 1858 and died Feb. 16, 1933 at the age of 79 years, 10 months, 9 days. He was united in marriage Oct 13,1878 to Anna Christina Bjurstrum. Unto this union eight children were born. Three of the children and his wife having preceded him in death. Mr. Lindberg is survived by five of his children namely, Roland R. of the home, Harry T. of Kansas City, Mo., Albert E. and Mrs. Vern Holstrom of Minneapolis, Minn., and Mrs. Fred C. Olsen of Bucklin, Mo. Also by eleven grandchildren, one brother, two sisters, other relatives and a great host of friends who mourn his untimely passing. Mr. Lindberg was a charter member of the South Swede Mission Church and had been an active member until his health interferred. He shall always be remembered for his kindly words and his fine untireing efforts to further the Kingdom of his Lord and Master. His loss shall be keenly felt, not only by his children and other relatives but by the great host of friends and neighbors. Funeral services were conducted by Rev. D. D. Reynolds of Brookfield at the South Swede church. Burial in the nearby cemetery.
Obituary of Annie Christina Lindberg (Bjurstrom)
- The Bucklin Herald, Feb 15,1929 - Mrs. Chas. F. Lindberg Annie Christina Lindberg Bjurstrom was born July 21, 1860, in Vasterbotten, Sweden, and died at her home north of Bucklin, Feb 9, 1929, age 68 years, 6 months and 18 days. The Bjurstroms came to Jamestown, New York, in 1869, and later moved from there to Kansas City. She was united in marriage to Chas. F. Lindberg Oct. 13, 1878, at Bucklin, Mo. To this union eight children were born, three of whom preceded her in death. Deceased united with the Lutheran church in Kansas City and affliated with the Mission church here. She is survived by the husband and five children namely; Three suns, Roland R., of the home; Albert E., of Minneapolis, Minn. and Harry T., of Kansas City, Mo.; two daughters, Mrs. Fred C. Olson, of Bucklin; and Mrs. Verner Holstrom. Also ten grandchildren and many other relatives and friends. A short funeral service of song and prayer was held at the home Tuesday, Feb. 12, at 1:00 p.m. after which, the body was taken to the South Swede church, where Rev. C. S. Peacocke, of Bucklin, conducted regular services at 2:30, after which internment was made in the nearby cemetery. Thou hast left us mother darling. And our hearts are filled with pain. But we hope again to meet you. In the land where is no pain.
Obituary of John August Lindberg
- The Bucklin Herald, April 20, 1939 - John August Lindberg John August Lindberg was born in Varmland, Sweden, June 9, 1850. He died at his home 9 miles north of Bucklin at 5 a.m., April 16, 1939, at the age of 88 years, 10 months and 7 days. He came to America in 1869, being at that time 19 years old. He obtained work with the railroad at Moberly, Mo., and remained there several years. In 1887 he was united in marriage to Anna Sophia Johenson. To this union six children were born: three sons, Alvin, Hjalmar and Simon, all of Bucklin; and three daughters, Hannah Johnson, of Silvil, Ill., Ida Wanlund and Emma Wanlund, of Harvey, Ill. The three daughters preceded their father in death. Mrs. Lindberg died on January 29, 1912. Besides the three sons Mr. Lindberg is survived by 23 grandchildren and three great-grandchildren. After leaving Moverly the family moved to a farm north of Bucklin, which was 55 years ago, and there Mr. Lindberg spent the remainder of his life. Mr. Lindberg was a faithful worker in the Swedish Mission church, and was a constant reader of his bible. When eyesight failed members of the family read to him his favorite passages to his great joy. A brief service was conducted at the home and public services were conducted at the Swedish Mission church at 2 o'clock Tuesday afternoon by the Rev. E. M. Hines. The choir sang both Swedish and American songs. Burial was in the adjoining cemetery.