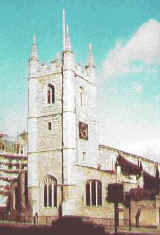 St. John's Church
John Wardle and Jane Turnbull were married at St. John's Church at New Castle, Northumberland County, England on June 15, 1828. Their children were born at Heworth, Durham County, England which is very close to New Castle.

The had 7 children: Edward, Isabella, John, Thomas, Benjamin, Charles, and Jane Ann. All children are known to have moved to the United States and several eventually settled around Bevier, Missouri. Their mother Jane also came and lived with Thomas. Their last name was changed to Wardell.

John, Thomas, and Benjamin worked together developing coal mines. They moved around to various places. The first mines were around Bevier, Mo. in the early 1860's. Later they mined gold in California and on the trip back they went to Wyoming and recognized the potential for coal mines there. John lived at Carbon, Wyoming from 1870-1880 where he managed a general store. They developed a mine there which became disputed when the railroad claimed the government gave them the land. By 1880 John returned to Bevier, Mo. where he, Thomas, and Benjamin operated large coal mines.